American Relief Centers for Women and Children – A Lisa Gervais Foundation
American Relief Centers is a non governmental organization established in 2015 in Tema, Ghana, a sprawling village outside the capital, Accra. The organization offers support to victims of rape and abuse during the recovery period. They provide counseling, temporary housing, medical help, and legal aide. They fund police outreach programs to the community as well as giving self defense training to girls at school age 7-13. In addition, they care for abandoned children while authorities look for suitable homes or orphanages for them, often times financing medical care and all interim costs.
Organized and overseen by Robyn Jesse Ern from California who lived in Ghana for 10 years. He knows first hand the struggles and abuses women and children face and vowed to make a difference. His motivation was personal, having been a teacher in Ghana and upon learning one of his former students had been raped, he flew back to see what he could do. He experienced a path of many obstacles in getting her help, and a system which is complex and expensive for the victim and full of loopholes in holding a perpetrator accountable. His establishing this Center, working closely with the local law enforcement and doing outreach to the community is a huge step in closing this gap. Lisa Gervais was a very inspiring and influential person in Robyn's life. Her vision aligned with his, and he named the foundation after her. Through donations and his business ingenuity, the NGO is funded.
Feb. 19-March 4, 2016
I was contacted by Robyn in October of 2015 regarding self defense instruction and the establishment of a team to teach in public schools. We worked out the details. Gillian Booth, a colleague from Australia, and I flew there in February of 2016. This is an account of my time and experiences there.
We were met at the Accra airport by Robyn and taken by taxi to Community 9, Tema, outside Accra. Most local travel is by taxi, which are owner operated converted cars, identified by yellow bumpers. Once off the main, paved highway from Accra, roads are dirt paths, potholed and full of interesting obstacles. Seatbelts are elective. We wore one when available. I was expecting heat, and so it was, rivulets of sweat started immediately and did not stop until I left the country. Apparently we came during the dry season, which means hot. I am not sure whether coming during the rainy season is a better idea, as we did experience one rain in which the roads and surrounding areas where immediately inundated. Luckily the locals know that several paths can lead to the same location, thereby bypassing temporary flood zones. The rain was momentarily refreshing though.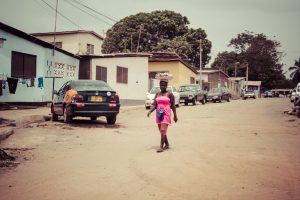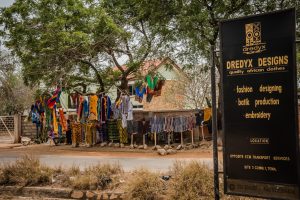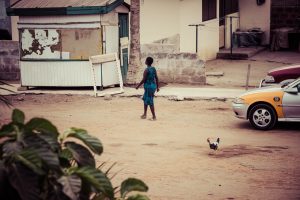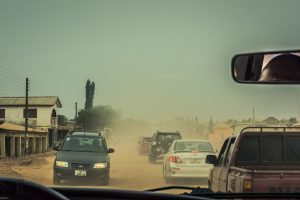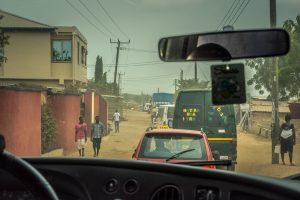 The People of the Center
Arriving at the Center we were met by Josephine, the "go to for anything/everything" person. She handles it all, and is amazing. When not at court, or pursuing a case, interviewing those involved, she is at a hospital or out on the "streets" talking to people. Jane Isoko is assisting and between the two, have accomplished a lot. While we were there, they had hired on new people as the organization was busier and taking on more cases by the day.
Felicia is the house mother, taking care of 6 wk old Daniel who was abandoned at the hospital at birth. He has spina bifida, and American Relief Center is handling his care and surgeries.
Then Emanuela is here with her mother because her father let a wound go on her leg without care and cause such infection that it had to be amputated. She is getting a special crutches and will get to walk again. Right now she scoots around very well and very quickly.
Kwame lost his eyes literally. His mother lost her mind, literally. She broke a plate while eating and cut his eyes out. Then she tried to cut his head off, managing to cut his neck. She said voices told her to do it. The family believes she has demons in her. They are not getting her psychiatric care. Kwame and his father are living here, until they get him situated in a school for the blind.
Next week a new mother and her baby, Princess will move in. The mother and her boyfriend had the baby and were planning to be married when he died suddenly. His family doesn't want to have anything to do with her or the baby, and since they weren't legally married, they aren't obligated. So she has to move out of their house but has no way to support herself. She wanted to give the baby away, but American Relief Center said no, come live here and Felicia will care for the kids and she can find a job. Once the baby is old enough and they are on their feet, they can move out and resume life.
There are around the clock security guards, Fred, Francis and Romel. One was hired during our time here. Jobs are hard to come by, and getting a job is taken seriously. Also just hired are Fred (a different one) Dorothy, Mescharch. They are the self defense trainer team, along with Jane and Josephine as back up. And when they are not teaching they do the outreach.